"The Painting Myth"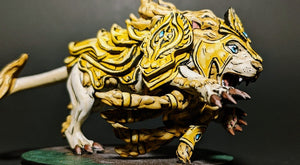 Armored Lion, painted by The Painting Myth
Usually I'm not a huge fan of armor on animals but after seeing this guy I knew where I could pull my inspiration from. World of warcraft! Basing it off one of the models of Shadowlands as they too have armored lion like creatures that are stunning in color. I think it blended really well with this model.

(experiances may Vary)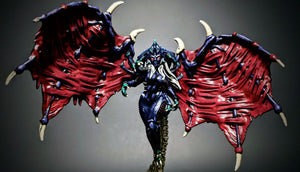 Hybrid Matriarch, Painted by thepaintingmyth
I will say I'm very impressed! So far with this miniature there was 0 issues with putting it together or any issues of misprints or supports. The miniature itself has a little flex to it. And the detail came out phenomenal. I will say she is top heavy due to the wings but her base is holding up just fine!, you should check them out!

I will continue to give my honest review on these printed minis. But for it being my first I will say I'm very impressed! I had 0 idea where to go with this one and I completely winged it. But in the end, I am very happy the way it turned out!

( experiances may Vary)
Giant Hawk paint by ThePaintingMyth
I fell head over heels for this model I did some revising on the base and made the rock larger and also tilting the miniature upwards to see the body a bit more while on the table . Nothing some tin foil and air dry clay couldn't help with!

(Experiances may Vary)

Model sizes

Various scales to choose from
Unpainted

All models come unpainted
Model sizes
Various scales to choose from
Unpainted
All models come unpainted
Greetings
Welcome to Ravenous Miniatures – your source for exquisitely crafted 3D printed and resin miniatures that take your tabletop gaming experience to the next level. From Dungeons and Dragons to Warhammer, our meticulously detailed models are the perfect addition to any game, whether you're a seasoned veteran or just starting out.
All of our miniatures are made, cleaned, prepped, and inspected in-house to ensure the highest quality. Our miniatures are sure to impress even the most discerning tabletop gaming enthusiasts, and are perfect for replacing your favorite board game meeples.
Our miniatures come unpainted, giving you the creative freedom to customize and paint them to match your vision. Our collection includes a variety of themes and styles, so you can find the perfect miniature for your game.
Don't take our word for it – see what our satisfied customers are saying about their Ravenous Miniatures. Check out our reviews and customer photos to see our miniatures in action.
Browse our collection today and discover the perfect addition to your gaming collection. And if you have any questions or concerns, don't hesitate to contact us – we take pride in providing exceptional customer service. Thank you for choosing Ravenous Miniatures for all your gaming miniature needs.